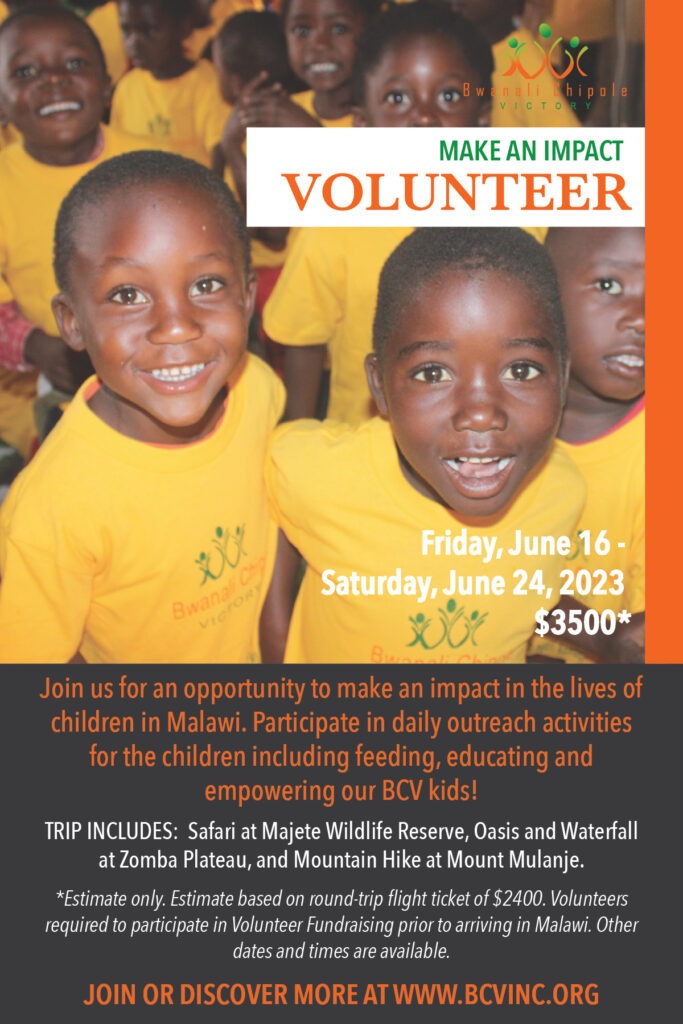 BCV LOVE VOLUNTEERS are impacting Malawi! All of the past volunteers that we have taken in the past came from incredible teams from all over the world. They help meet their spiritual and physical needs with food and supplies including medical supplies, school supplies, clothes and hygiene products. While they are in Phalombe, our BCV LOVE Volunteers support the local team that daily cares for the vulnerable children of Phalombe with exciting and fun messages from scripture, educational lessons, daily feedings, and inspiring and creative activities. Check out some of the things we've been able to do with the support and involvement of people all over the world.
2023 BCV LOVE VOLUNTEERS Mission Trip
Join us for an opportunity to make an impact in the lives of children in Malawi. Participate in daily outreach activities for the children including feeding, educating, and empowering our BCV Kids! June 16-June 24 , 2023. $3500 (Estimate only. Based on round trip flight ticket of $2400)
LOVE Volunteer Mission Trip Gallery
Click on the image to see more about each trip.
Do you want to be a BCV LOVE Volunteer?
LOVE. The Bwanali-Chipole Victory, Inc. Volunteer Program
Our Program
BCV LOVE is the volunteer program which allows individuals and groups to play instrumental roles in carrying out the mission of BCV during their time sacrificed in Phalombe, Malawi.
Our mission is to empower, inform, inspire and educate the children of Malawi to make life decisions that combat the spread of HIV/AIDS within their community and deal with the issues of early deaths, poverty, parentlessness, hunger, disease and homelessness.
Each program is a unique experience, tailored to YOU. We offer you a chance to go somewhere miles away from anything remotely familiar except the hearts and lives of people. We offer you an opportunity to completely invest yourself in seeing change take place in the lives of over 180 children between the ages of 3 and 6. You decide when you want to go and how long you want to stay.
Requirements
Must be willing to spend the full allotted time of your trip (lengths vary) in Malawi
Must be assessed by the BCV LOVE Selection Committee as someone who can benefit from, as well as contribute to the mission of BCV
Must supply the required medical records and background check
Must supply own medical insurance, cost of travel, passport, visas, personal items and personal expenses
Must be able to raise the financial funding required
LOVE Program Options & Costs:
You can select to join LOVE programs of various lengths. Below are the Programs and their costs.
2 Week Option
Cost of Program is $600*
Includes: Housing, 3 daily meals, WiFi, Weekly travel into town, M-F Language Lesson, Transportation to/from Chileka Airport
*Prices subject to change
Month by Month
Each month is $1400*
Includes: Housing, 3 daily meals, WiFi, Weekly travel into town, M-F Language Lesson, Transportation to/from Chileka Airport
*Prices subject to change
Each LOVE Program Includes:
BCV LOVE Volunteer Support from our Program Coordinator
Transportation from the airport upon your arrival in Malawi and on your departure
Weekly travel to nearby Blantyre, Malawi (shopping, sight seeing, etc)
Host Home Lodging with BCV Founder and President, Jane Jumbe
Three meals a day
Laundry Service
WiFi Access
Daily, 1-hr comprehensive language lessons with a local instructor
Not Included But Strongly Encouraged:
Unlocked Cellular Device (be able to purchase SIM card in Malawi to contact loved ones back at home)
Money for Personal Expenses (In-Country Exursions, Bicycle, luxury item purchases)
Day-in-the-Life* of a LOVE Volunteer
6:30 AM Homemade, all-natural, organic breakfast
7:00 AM Leave to Work at Orphanage, Assist Set-Up and Meal Prep
8:00 AM Children start to arrive, Assist Teachers Corraling BCV Kids
8:30 AM Assist with BCV Kids Breakfast feeding
9:00 AM Assist Teachers with Daily lesson plan (English, Math, Christian Religion)
9:45 AM Play Break with the BCV Kids
10:05 AM Assemble BCV Kids for next lesson
10:15 AM Assist Teachers with second daily lesson plan (English, Math, Christian Religion)
11:00 AM Assist with Lunchtime Feeding
11:45 AM Cleanup and Dismissal of BCV Kids
12:30 PM LOVE Volunteer returns to Host-Home for homemade, all-natural, organic lunch
2:00 PM Comprehensive Language Lessons with Local Instructor
3:00 PM Free-Time for Volunteer (shopping in Phalombe District, travel around village)
4:30 PM Daily Tea/Coffee (Optional)
7:00 PM Homemade, all-natural, organic dinner at host-home
*Everyday is flexible based on the needs of the program and the needs of the volunteer. This is an example schedule